---
FAQs
When will I receive my orders ?
After purchase, your account(s) will be deliveryed automatically within 5 mintues to your email address.
If you didn't receive your account(s) over 10 mintues, there would be the reasons:

1. You left an incorrect email address.

2. Your payment was pending or not completed.

3. Your delivery was on hold because Fraud rate was detected on your transaction. Your order Need to be confirmed manually.
4. The item was out of stock.

Please wait a while, when operator is online, he will take care of your orders. No worries!
What payment method do you accept ?
Currently we only accept payment by credit card, if you don't have credit card, I can also accept wise and crypto offsite payment, please contact with me on Discord: DDDAccount#7529. 
I will send you account manually after paid.
How can I get a coupon or discount ?
You will receive a review request email within 24 hours after your purchase. And a $2 coupon code will be sent to your email automatically if you left a review successfully. 
You will receive a 2$ cash back reward if you left a feedback on my thread on epicnpc.com. The 2$ cash back will be sent manually upon feedback confirmed.
We will send coupons to your email if there is any holiday or events promotion. So please subscribe our newsletter.
How to use the login ID or transfer code ?
Dokkan battle 
To use the transfer code, you need to delete the game first, clear the data from your device, and download the game again.  Then check the below pictures and follow the steps.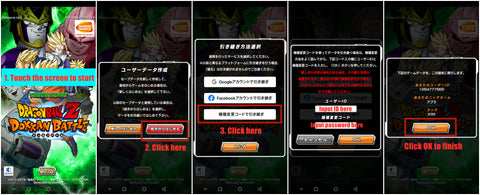 Important Note!!!!!

By click "OK" on the last step, that means the one-time use transfer code was used. If you delete the game or clear the date on your device, you will lost the account.

When you click "OK" on the last step, and the game was shut down accidentally or you can't load the game because of the slow internet connect. Please don't delete the game, your transfer code would be already used. Please login the game first and confirm.
7DS Seven Deadly Sins Grand Cross
How to use transfer code?
How to change password?
Please check below pictures and follow the steps


I received a wrong account, I can't login, Invalidty code or error password.
All accounts will be checked before send it to buyers, please check if there is any typing mistake when you input your ID and password, and also pay attention if you had purchased the right item, sometimes, buyers bought Japan server account by mistake, actually they want a global one.

Please try to copy the ID and password, not to type.

If you still get error with the accounts, please contact us with Tidio, Discord or email. We will check your accounts and give you a solution. No worries
The account I received is not as described.
If the accounts you received is not as described, like less gems or missing characters or units.

1. Please take a screenshot and send it to us.

2. Please make sure everyting on the account is untouched (if you touched anything, we will consider the account was already used and we will not accept any replacement or refund) .

3. We will check the account and evaluate the case, then give you a solution like: replacement; Partial refund or full refund.
Return-Replacement-Refund
Because we are selling digital products, we don't accept any return. We have this warning message on all my listings, if you made purchase on DDD game store, that means you accept our return policy. Repalcement or Refund will be provided only if the item you bought is not as described.